Where and When?
The Neotex Technopark (Monastir) will hold, on May 31st 2022, the Symposium, including a Matchmaking session, as part of the Texmed Alliances Project Activities.
Who can participate?
The symposium aims to bring together key-stakeholders of the health textiles sector from Europe and the MENA region to exchange ideas and visions about next development of the sector.
What are the benefits of participating?
The Symposium provides an interesting opportunity for SMEs to develop networks, share knowledge and promote businesses with potential partners. Participants have the opportunity to learn and discover products and services.
Main Topics
Innovative materials and properties for advanced solutions in health textile sector
Key production processes (nonwoven technologies, Personal Protective Equipment technologies)
Standards and certification and Regulations of the market
Market and public procurement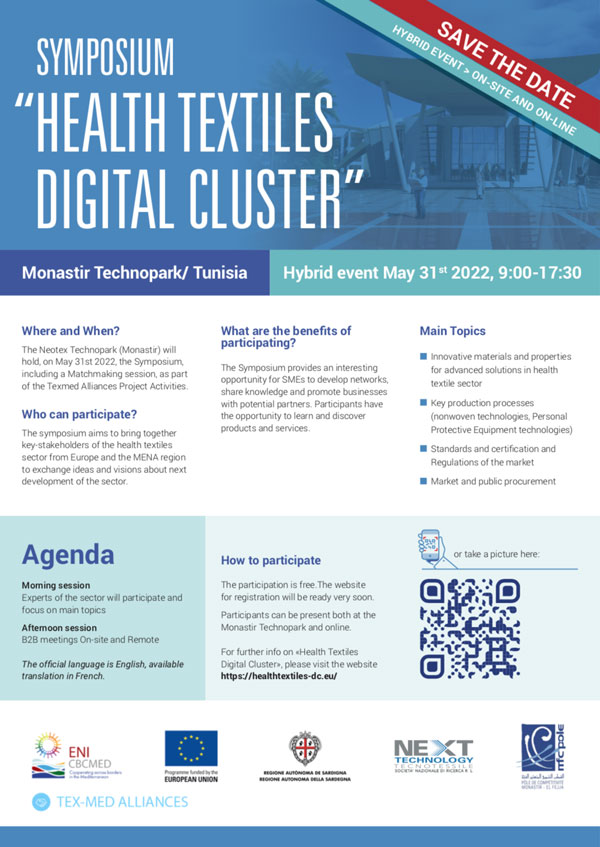 How to participate
The participation is free of charge. Stay tuned for the registration and full agenda at the following website www.healthtextiles-dc.eu/ 
Participants can be present both at the Monastir Technopark and online.